Health and Nutrition (Water and Sanitation, Health, Hygiene & Nutrition)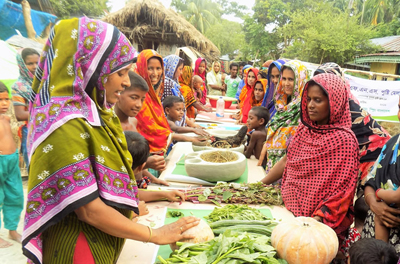 Bangladesh has made considerable progress during the last two decades in health, education and economic indicators. The country is still struggling to overcome high infant and under-five mortality despite considerable improvements.

The current health coverage: ≤12 months old children: BCG 99.3%; OPV1 99.1%; OPV2 94.5%; OPV3 93.6%; Penta193.9%; Penta2 94.5%; Penta3 93.6%; Measles87.4%; Full vaccination: 82.5% ≤23 months old children: BCG 99.4%; OPV194%; OPV2 94.7%; OPV3 94.1%; Penta1 94%; Penta2 94.7%; Penta3 94.1%; Measles 91.7%; Full vaccination 86.5% Tetanus toxoid coverage (%) among women of childbearing age: TT1 96%; TT2 94%; TT3 83.6%; TT4 66.7%; TT5 46.1% (National Health bulletin, DGHS 2016) Antenatal care coverage (at least 4 visits) (%): 31 (in 2014, UNICEF, February 2016), 31.2 (BDHS 2014) Antenatal care coverage (at least one visit by skilled health professional) (%): 63.9 (in 2014, WB 2016) Births attended by skilled health personnel (%): 42.1 (BDHS 2014) C-section rate (%): 22.9% (BDHS 2014) Home delivery rate: 62.2% (BDHS 2014) Infant mortality rate (per 1,000 live births): 29 (SVRS 2015) Institutional delivery rate (%): Total 37.4; Public facility 12.8; Private facility 22.4; NGO facility 1.9 (BDHS 2014) Maternal mortality ratio (per 100,000 live births): 176 (in 2015, WB 2016) Neonatal mortality rate/1,000 live births: 20 (SVRS 2015) Under-5 mortality rate (per 1,000 live births): 36 (SVRS 2015)

Percentage of Institutional delivery- 39% Ante-natal care coverage - at least four visits (%)-40.7%. PENTA -3/ Immunization Rate- 91.9% Percentage of standardized post-natal care visit within first 48 hours (mother and new-born) - 44.5% Service utilization rate among young people- 27.3%. % of children 0-6 months exclusively breastfed- 95.8% % of children 6-23 months who are fed minimum acceptable diet (4 or more food group)- 76.4% Percentage of sexually active young people using contraceptive methods- 33.1% Percentage of sexually active young people knows about the correct contraceptive method- 15.1% (Plan AOM 2016)

Total fertility rate (per woman of 15-49 years): Total 2.10, Rural 2.30, Urban 1.72 Contraceptive prevalence rate (%): 62.1 (SVRS 2015)

There remains a significant gender inequality in health status, limited access to and utilization of health facilities is due to multiple causes, for instance - maternal malnutrition, is not only a consequence of income poverty but also of the poor social value placed on maternal health.

The poor communities do not have sufficient capacity to mobilize and effectively exert pressure on service providers. Due to resource constraints and difficulty in transforming public agencies, the GoB has initiated to create space for NGOs and other private sectors in service provision. Non –government organizations have demonstrated their ability to provide cost effective services for the poor people.

We are the world's fourth highest rate of early marriage before age 18, at 65%.The world's highest rate of marriage before age 15, at 29%, 2% of girls in Bangladesh are married before age 11, according to a UNICEF study. 40% of women aged 20-24 giving birth by age 18 .One of the highest rates of adolescent pregnancy in the world. A 61% national contraceptive prevalence rate, though only a 47.1% rate for married adolescents aged 15-19. Adolescent girls aged 15-19 have a higher unmet need for family planning (17%) compared to the national average (14%). Only 11% of females and 14% of males aged 15-24 have knowledge of HIV. A well-developed rural health infrastructure exists in Bangladesh compared to urban areas, but they are inefficiently operated. Available studies on the problems of the health care sector focus on proximate causes such as the absence of doctors, incompetence and indifference of health staff and patient unfriendly health facility. However, the underlying causes of inefficiency are rooted in the system, which lacks both incentives and accountability. The Government of Bangladesh (GOB) faces challenging times in translating its commitment to adolescent girl's health into results at the community level. Early marriage (before age 18), early pregnancy (before age 20), and poor family planning, particularly in rural areas, threaten adolescents girls' health and well-being.

In rural Bangladesh, the reproductive situation takes its worst form (Ahmed, 2005; Hussain & Khan, 2008; Rashid, 2006) with the common phenomena of physical and mental sexual harassment by husbands and his family (Johnston & Naved, 2008; Wahed & Bhuiya, 2007).

Women deserve the right to participate in fertility decision making without facing any type of discrimination or violence (AI USA, 2007; WHO, 2014); however, a husband's dominance in fertility decisions often results in induced abortion, miss-carriage, and fatal death, and also leads to pregnancy-related complications (J. C. Campbell, 2002; Dunkle et al., 2004; Rahman, Mostofa, & Hoque, 2014; Stephenson, Koenig, & Ahmed, 2006).

A man has complete autonomy to determine when he will do intercourse with his wife. In this situation, the husband plays role as aggressor and the wife merely a passive participant. If the husband dislikes birth control, for whatever reason, then the wife has no way of protecting herself from unwanted pregnancies. Often there is a pressure from the husband's family for the wife to produce offspring, particularly male offspring. As a result, a young woman begins conceiving at very early age and endures several repeated pregnancies in the hope of a male offspring. In this regard, the governments with non-government organizations and world bodies are trying to address this problem by conducting research by the determinants of reproductive health in the third world countries.

ESDO is working in this sector to improve the situation through different projects like ESDO Shishu Hospital, Adolescent Health strengthening Activity, Advancing Adolescent Health (A2H), Urban Primary Health Care Service Delivery Project (UPHCSDP), South Asia WASH Results Programme (SAWRP-II), Sustainable Urban WASH Program, Max Value for WASH in Urban Slums in Kurigram Municipality Bangladesh, Lending for Improved Rural Sanitation in Bangladesh , Strengthening Community Managed Health Care (SCMHC) project, Sustainable Solid Waste Management Project, Strengthening Community Managed Health Care (SCMHC) project.

BUT IT'S NOT ENOUGH TO REDUCE THOSE PROBLEM. WE NEED TO WORK LOTS. THERE for WE NEED AVAILABLE FUND. PLEASE DONATE US AND BE A PART OF THIS JOURNEY.
How to Donate
Bank Name: Agrani Bank Limited
Account Name: Eco-Social Development Organization (ESDO)
Account Number: 0200001304136
Bank Address: Thakurgaon Branch, Thakurgaon, Bangladesh
Bank SWIFT Code: AGBKBDDH
Bank Code: 2921
Routing Instructions for Disbursements: 010940976